Security firm Malwarebytes announced last month on May 24, 2018, that it acquired the privately held Romanian company Binisoft, best know for its Windows Firewall Control security product.
Windows Firewall Control is a standalone security product for supported versions of Microsoft's Windows operating system that adds better Windows Firewall management capabilities to the operating system.
Check out our Windows Firewall Control Tips guide to find out more about the program's advanced features.
As a user of Windows Firewall Control, I'm interested in Malwarebytes' plans going forward: will Windows Firewall Control remain available as a standalone product? Will it be integrated in products by Malwarebytes?
The official press release on the Malwarebytes website provides some but not all of the answers. The company notes in the press release that the solution will be integrated into the Malwarebytes platform and company products.
Binisoft Windows Firewall Control will quickly integrate into the Malwarebytes platform, which simplifies the deployment and ongoing management of security solutions. Administrators benefit from broader visibility into endpoints existing within their environment.

The company's Windows Firewall Control is widely used by millions of users and will significantly enhance the Malwarebytes endpoint protection platform.
Malwarebytes reaffirms users of Windows Firewall Control that the company that created the program will retain its name but will get Malwarebytes branding to reflect the change in ownership.
For the near term, Binisoft will retain its current name, supplemented by Malwarebytes branding. Malwarebytes is committed to maintaining the mission of the Binisoft products and its features.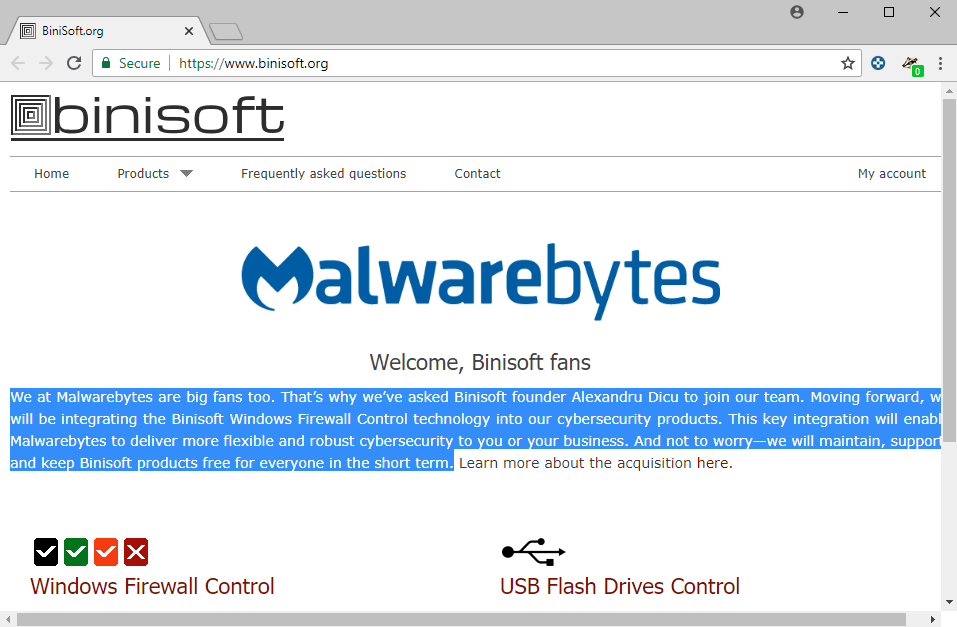 The Binisoft website offers additional details. Malwarebytes reveals that it plans to integrate the product into its products, and that it plans to support and keep Binisoft products "free for everyone in the short term".
We at Malwarebytes are big fans too. That's why we've asked Binisoft founder Alexandru Dicu to join our team. Moving forward, we will be integrating the Binisoft Windows Firewall Control technology into our cybersecurity products. This key integration will enable Malwarebytes to deliver more flexible and robust cybersecurity to you or your business. And not to worry—we will maintain, support, and keep Binisoft products free for everyone in the short term.
Closing words
Nothing will change in the near future. Existing users of Windows Firewall Control can use it like they have before. Malwarebytes will integrate the solution in its security products but fails to mention if the functionality will be offered to Enterprise or business customers exclusively, or it the firewall control options will land in consumer products such as Malwarebytes as well.
It is unclear at this point if Windows Firewall Control will cease to exist as a standalone product, or if Malwarebytes will continue to offer it as part of the company's portfolio. Also unclear is how Malwarebytes plans to handle Pro customers.
It would be unfortunate in my opinion if Windows Firewall Control would be retired by the company.
Malwarebytes made two other acquisitions of note in the past two years. It acquired Junkware Removal Tool back in 2015 and AdwCleaner in 2016. The company since then has discontinued the Junkware Removal Tool, two years after its acquisition.
Now You: What is your take on the acquisition?