Malwarebytes announced on October 26, 2017 that it will discontinue supporting the company's Junkware Removal Tool in the first quarter of 2018.
Junkware Removal Tool is a free program for Windows designed specifically to remove potentially unwanted programs (PUPs), adware, and other unwanted things from the operating system.
It supports the removal of programs, browser extensions, toolbars, and adware, and supports more than 250 different variants of junkware that it can remove in its latest version.
We reviewed Junkware Removal Tool back in 2013 for the first time, and found it to be an excellent albeit somewhat limited program when it comes to the removal of unwanted software.
Malwarebytes, maker of the popular Anti-Malware security program (now called Malwarebytes only), acquired the Junkware Removal Tool back in 2015. The company wanted to integrate the program's functionality into its own security offerings, and noted that the tool would remain available online.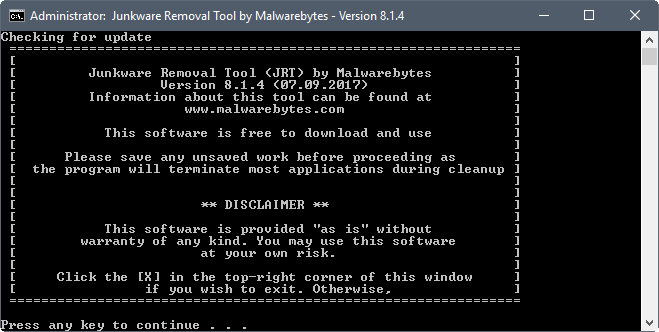 The company decided to end maintenance of the program effectively immediately, but will continue to provide service and support for the application until April 26, 2018.
Malwarebytes has chosen to discontinue Junkware Removal Tool (JRT) by announcing the end of maintenance as of October 26, 2017.

Malwarebytes will continue to provide service and support for JRT until End of Life (EOL) on April 26, 2018.
Malwarebytes suggests that users switch to AdwCleaner, a program that it says features all major features of Junkware Removal Tool.
AdwCleaner coincidentally was acquired by Malwarebytes in 2016. It can best be described as a graphical user interface version of Junkware Removal Tool with additional features such as better traces detection of adware and potentially unwanted software.
The Junkware Removal Tool is still available for download. Interested users can download it from the Malwarebytes website and continue to use it. The program requires no active Internet connection; this means that it can be used after Malwarebytes ends support for the program. It will lose some of its use over time though as it won't receive updates anymore which in turn means that it cannot deal with newer adware variants.
Closing Words
Malwarebytes software supports the detection and removal of potentially unwanted software, and so do Junkware Removal Tool and AdwCleaner. It was clear from the get go that the company would unify the offering. It is probably just a matter of time before AdwCleaner is discontinued as well.
Now You: What's your take on the development?