Malwarebytes 3.0 is a new product by Malwarebytes, makers of security software that unifies the company's main security products in a single program.
Home users had the choice between three different products for Windows desktop PCs up until now: There was Malwarebytes Anti-Malware, Malwarebytes Anti-Exploit, and Malwarebytes Anti-Ransomware.
The first two products were available as free and premium versions, Anti-Ransomware as a free beta release.
This meant that users had to install up to three programs on their system, all with their own interface, notification system and controls, to get the full level of protection that Malwarebytes products offered.
Malwarebytes 3.0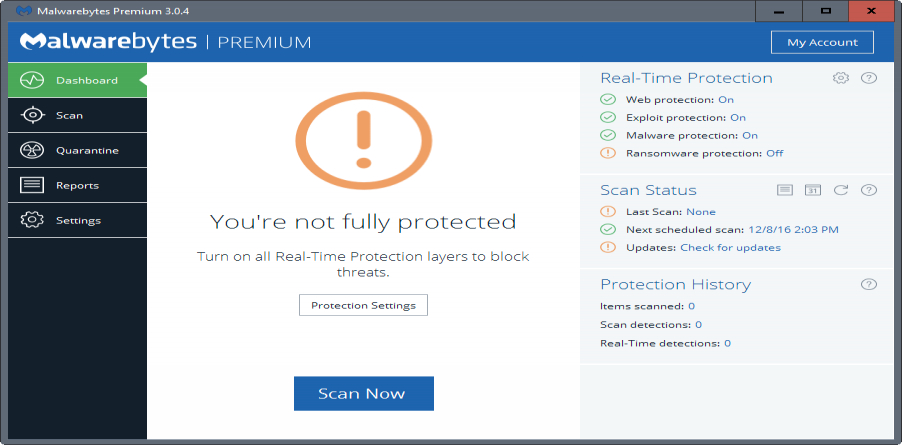 Malwarebytes 3.0 unifies the three products into a single one. This offers several advantages, most notably access to a single user interface for managing these three products. Instead of having to juggle between three different programs, all options and logs are now presented in a single interface.
Good news: Malwarebytes 3.0 comes as a free and premium version. The free version offers a manual scanner only that detects and cleans the system when you run it, the premium version offers real-time protection against threats. This is identical to how Malwarebytes Anti-Malware handled things previously.
Not so good news: The Malwarebytes Anti-Exploit and Anti-Ransomware programs are no longer available as standalone downloads. The only way to retain access is to block the installation to Malwarebytes 3.0.
Installation of the new Malwarebytes works as you'd expect it to. The installer detects previous versions of Anti-Malware, Anti-Exploit and Anti-Ransomware, and removes them in the process.
Both Malwarebytes product were removed on a test system with Malwarebytes Anti-Malware Premium and Anti-Exploit installed, when the new Malwarebytes 3.0 was installed.
You can check your account status by selecting Settings > My Account > Subscription Details. The edition (premium or not), as well as the status (never expires, expires..) are listed there.
Your premium account is upgraded to the new version automatically.  Anti-Exploit and anti-ransomware protection is only available in Malwarebytes 3.0 Premium.
If you are a lifetime license owner, that license is also carried over. So, all is good in this regard.
If you have a Anti-Malware and Anti-Exploit subscription, Malwarebytes will get you a single Malwarebytes 3.0 subscription, reduce the subscription price, and add more licenses to the subscription, the company states in the announcement post on the official blog.
Changes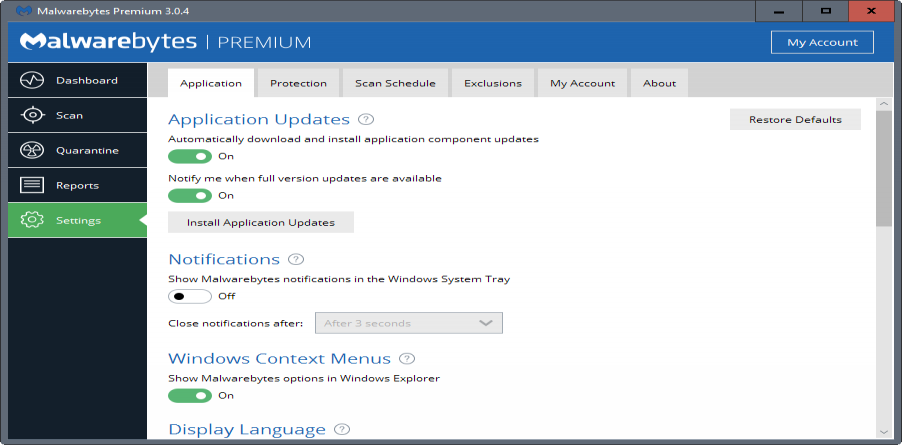 As far as other changes are concerned, there are plenty as well. Malwarebytes states that scan speeds have improved by a factor of up to four, that reboots will be less after certain malware events, and that the advanced heuristic engine is enabled by default in the new version.
The user interface has been redesigned to accommodate the new features, and premium users benefit from Windows Action Center / Windows Security Center integration.
One other thing that is different is that update checks are now done automatically, so that they don't need to be scheduled anymore. You can disable that behavior under Settings > Application > Application Updates.
The new interface offers improved keyboard navigation and screen reader support on top of that.
Closing Words
The new Malwarebytes 3.0 is an improvement, especially for users who run multiple Malwarebytes products on their computer systems. Instead of having to juggle between multiple programs, all is handled from a single process and interface now.
The way the upgrade is handled deserves praise for the most part as well. Malwarebytes honors lifetime licenses, and gives premium users an upgrade to the new version for free, even if they have not bought the premium version of the Anti-Exploit tool.
The one downside to it all is that ransomware and exploit protection is only available in the premium version of Malwarebytes 3.0, and that the standalone versions appear to have been removed.
This puts free users in a difficult spot. They can either upgrade to the new Malwarebytes 3.0 Free version and get their Anti-Exploit or Anti-Ransomware installations removed in the process, or stay with the old version that won't be updated anymore to keep on using those programs.
Now You: What's your take on the new Malwarebytes 3.0?