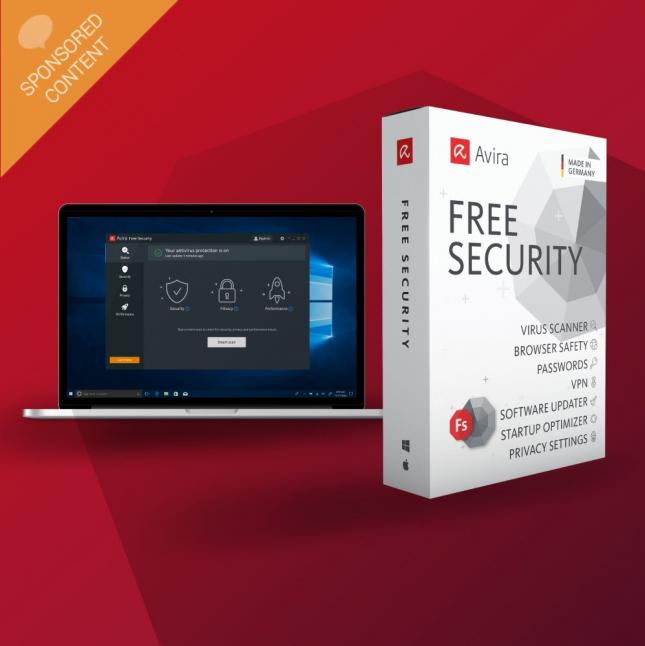 Avira Free Security for Windows is a powerful security software for devices that run Microsoft's Windows operating system. It includes award-winning antivirus protection and components that are not usually found in free antivirus solutions such as a password manager, ad blocking or integrated VPN client.
Avira Free Security is also available for Macintosh, Android and iOS devices, ensuring that users can keep their desktop and mobile devices protected using the free security solution.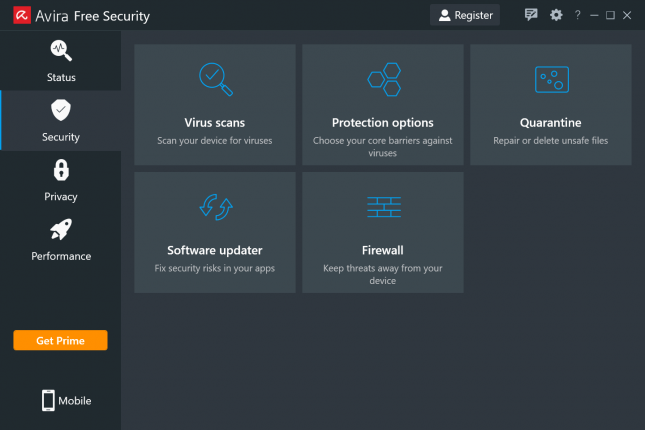 The Windows version is compatible with devices running Windows 7 or later. Installation is straightforward and installs several browser extensions as part of the initial installation. These browser extensions protect against online threats, block ads, or may suggest better deals when shopping online. Users may disable the extensions if they have no need for them.
Major protections are enabled automatically so that the system is protected right after the installation of Avira Free Security completes.
The welcome screen suggests to scan the device right then and there, and that is usually a good idea, as it allows you to make sure that the system is clean and not infected. The scan looks for virus and malware, but also for privacy and performance issues, outdated apps, and network threats. The scan ran fast on several test systems; it took less than a minute to complete on all setups, and displayed results right away.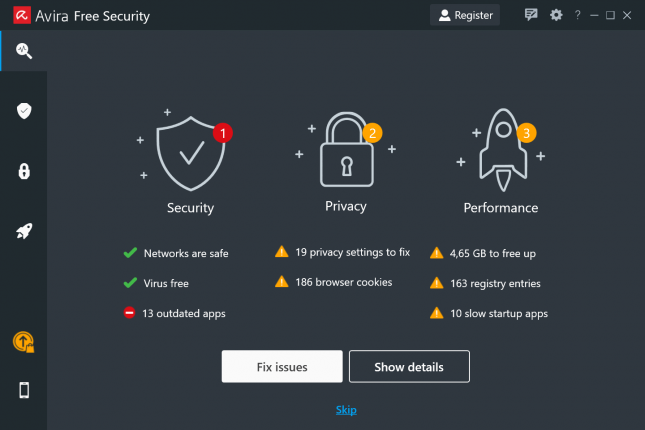 The application uses color codes to highlight issues and will display an overview of threats and issues found after the scan. A click on the "fix issues" button takes care of these right away, but you may also check additional details first or skip to do nothing.
The details page lists all found threats and issues, and gives you options to handle these. You may block some fixes from being run, but it is usually a good idea to apply them all.
The main interface of Avira Free Security for Windows is well designed. It displays four main icons in a sidebar on the right. The section expands when you hover the mouse over it, which is excellent for new users as it displays the names of the sections when that happens.
The start screen, called Status, displays scan results and an option to run a smart scan on the device right away.
Security gives you options to run virus scans on the device, manage quarantined files, check for outdated files, and manage protection options. Here you find additional scan options such as running full scans on the device or to create, run and schedule scans.
The schedule scan option is quite interesting, as you get quite a bit of customizability here. Quick Scans and active process scans are configured to run on schedule already, but you can add a good number of other scans, including scans of the Documents folder, a Windows system scan, rootkit scans, or full scans among others. Scans can be scheduled to run daily, weekly or monthly with just a few clicks.
Avira products have received excellent ratings in recent tests by independent companies that test security solutions for Windows and other operating systems.
In AV-Test's latest test, Avira received a perfect score of 18 out 18 in the categories protection, performance and usability. In AV Comparatives' latest test, Avira received three Advanced+ and three Advanced awards, and with SE Labs, Avira received a product rating of AAA, the highest rating available.
The Quarantine is important for a number of reasons: first, because threats are quarantined in here so that they cannot harm the system anymore or steal data, and second, because it gives users control over quarantined items, so that they can be deleted or restored.
Avira Free Security includes several privacy and performance tools that free users may use. The VPN is built-in, and while it limits monthly data to 500 Megabytes and the nearest server, it is an excellent option to improve protection while online.
Avira Free Security installs browser extensions during installation that are compatible with many popular browsers including Google Chrome, Firefox or Microsoft Edge.
• Avira Browser Safety blocks advertisement, protects against malicious and phishing websites, prevents browser hijacks, and prevents tracking.
• Avira Password Manager integrates the password manager in the browser.
• Avira Safe Shopping is a product comparison addons that highlights better deals when you are shopping online.
The extensions can be installed separately as well.
Next to these privacy tools, there is a file shreeder utility to delete files permanently on the system, an option to manage privacy settings on the Windows system, that includes options to disable telemetry, customized user experiences, or hardening the system.
The privacy settings offer an astonishing number of options, comparable to well-received Windows 10 privacy programs, but built-into the free security program.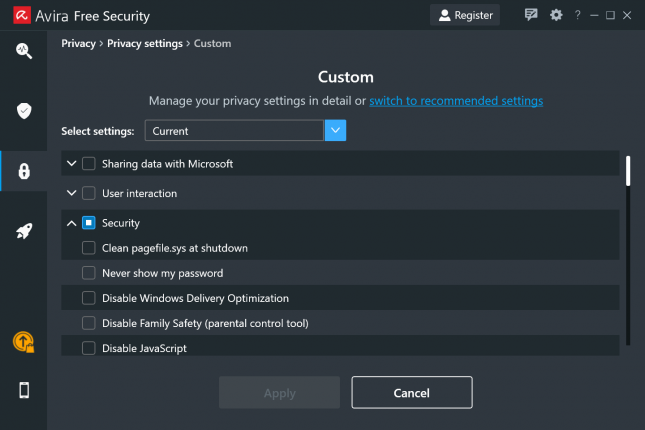 Performance finally includes tools to improve battery life, improve startup and system performance, and to find duplicate files.
Some of the included tools and options in all program sections provide information only, as the full versions are included in the commercial versions Avira Internet Security for Windows and Avira Prime for all devices. The information itself is still useful, as it may hint at issues the user would otherwise not be aware of.
Avira Internet Security and Avira Prime include several additional features. Internet Security includes all features of the free version plus automatic software and driver updates, protection against advanced ransomware attacks, online account alerts, and customer support. Prime includes all of that plus an unlimited VPN, access to 30 premium tune-up tools, premium apps for iOS and Android, and option to install it on up to 5 devices to keep these secure.
Verdict
Avira Free Security for Windows is a powerful security solution that protects Windows systems against malware, phishing and rootkits, and improves privacy and performance with its integrated tools, settings, and browser extensions.