Microsoft plans to change how .NET Framework updates are delivered and deployed on devices running Windows 10 in the near future.
Starting with Windows 10 version 1809, the October 2018 Update, .NET Framework updates will be provided in a cumulative format similarly to how updates for Windows 10 are provided. The new cumulative updates are also provided for Windows Server 2019.
Net Framework updates are delivered either as standalone updates if the installed operating system is Windows 7 or Windows 8.1, or as part of the cumulative update on Windows 10 devices.
The integration of .NET Framework updates in cumulative updates for Windows 10 put administrators between a rock and a hard place at times. The July 2018 updates for the .NET Framework demonstrate this clearly as they caused all kinds of issues on systems the updates were installed on.
Cumulative .NET Framework updates

Cumulative .NET Framework updates will be provided for systems running Windows 10 version 1809 or later only.
Microsoft notes that it will only make available a single cumulative update and no separate security-only update for the .NET Framework on supported devices.
Users who use Windows Update to install updates will notice that a new Cumulative Update for the .NET Framework will be offered alongside cumulative updates for the operating system. These updates are either installed silently in the background or on user request.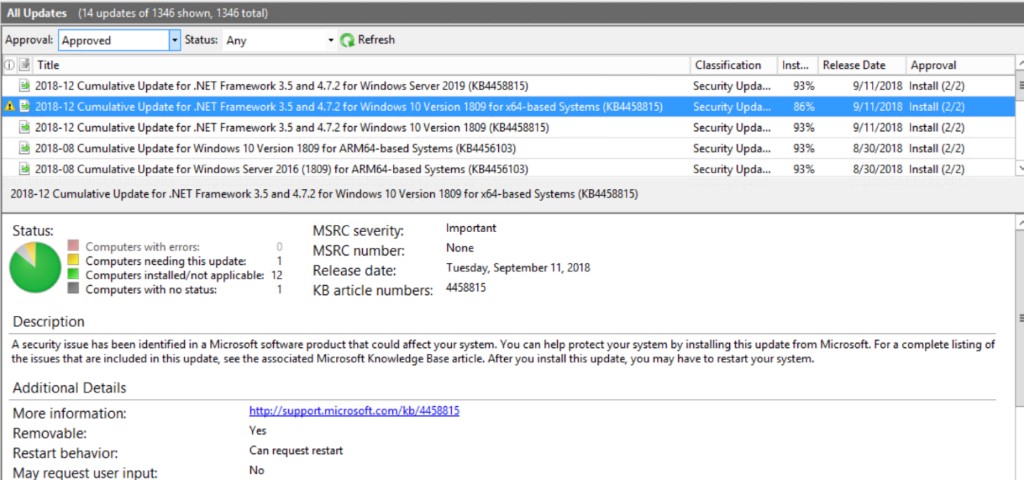 System and IT administrators who use WSUS or other deployment platforms will see new .NET Framework cumulative updates when they check for updates for Windows 10 version 1809 or Windows Server 2019. The updates will show up under Windows Products in WSUS and if the updates include security updates, they will have the security updates classification as well.
Updates that don't include security patches are listed as "updates" or "critical updates" instead.
Cumulative updates for the .NET Framework are also available on the Microsoft Update Catalog website where they can be downloaded.
The cumulative updates won't update the .NET Framework to a newer version according to Microsoft as they will only update already installed versions of the framework to the latest version.
The updates are provided on Patch Tuesday as they follow the same servicing cadence as Windows 10 updates.  Each update replaces and supersedes the last cumulative update for the .NET Framework.
Microsoft plans to release previews one or two weeks after the full release on Patch Tuesday so that system administrators and users can test the coming updates before they are made available via Windows Update, WSUS and other means.
Second Tuesday of every month: new cumulative updates for .NET Framework is released.
Third or fourth Tuesday of every month: previews of cumulative updates for the .NET Framework are made available for testing.
Out-of-band updates may be released at any time, e.g. to fix critical issues.
Closing Words
The separation of .NET Framework updates on Windows 10 version 1809 and later is an overdue step. While it is certainly appealing to install a single update and be done with the updating, the past has shown that a single broken update can prevent the installation of all updates in those scenarios.
Considering that cumulative updates include security patches, it has been quite problematic for system administrators as they had to decide whether to install the update and potentially deal with broken things or block the update and deal with potential security issues.