Windows 10 Build 16257: fixes Edge annoyance, introduces Eye Control
Microsoft released Windows 10 Build 16257, a new preview build of the upcoming Fall Creators Update for Windows 10, yesterday evening.
The new version introduces a new Eye Control feature, designed to improve accessibility by adding options to control Windows with eye movement, Microsoft Edge improvements, a color overhaul for the Windows Console, input and Windows Defender Application Guard improvements, and bug fixes.
The new build of Windows 10 is available already. Windows Insiders who have set up their device to be on the Fast Ring can run a manual update check in Settings > Update & Security > Windows Update.
It should get picked up automatically, downloaded to the system and installed afterwards.
Microsoft Edge improvements
If you have used Microsoft Edge before you know that it comes with a very, very annoying selection feature when you select text in the address bar.
This was the top 3 complaint in my list of Microsoft Edge annoyances that I published back in 2016.
This adjustment fixes the issue. When you click in the address bar now, the cursor stays at the position you clicked on and does not shift anymore as "http://" is added to the address.
No more issues when selecting text in the address bar for copying, or modifying the URL, as the selection is not changed anymore automatically.
Other Edge improvements include a new look inspired by Microsoft's Fluent Design System, and several fixes for issues.
Eye Control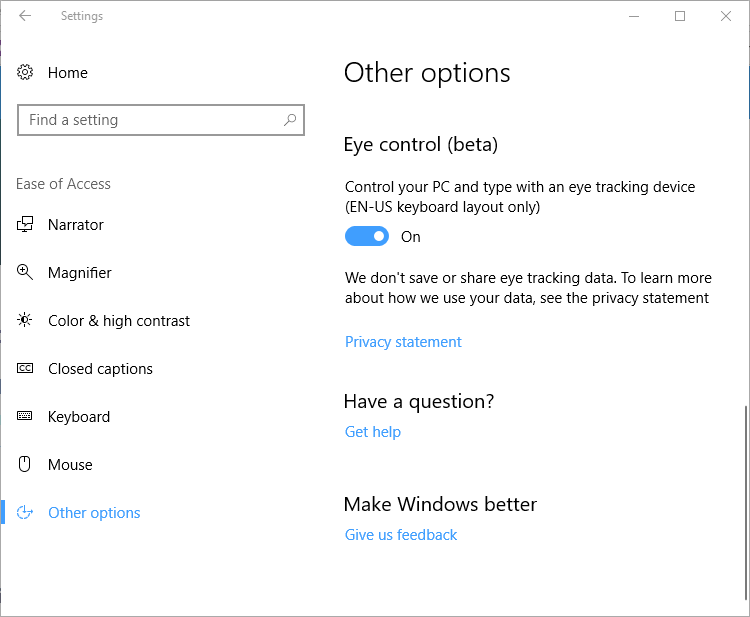 Eye Control is a beta feature right now that adds another accessibility option to the Windows 10 operating system.
The beta feature requires a specific camera for that right now, the Tobii Eye Tracker 4C. Microsoft works on adding support for other cameras that support the functionality -- Tobii Dynavox PCEye Mini, PCEyePlus, EyeMobile Plus, and I-series -- soon.
Setup requires that you install the Tobii's Core eye tracking hot fix release 2.10.11.6458 and run calibration after installation. You need to open Windows Update then to check for a new device driver, Tobii Eye Tracker HIDClass Driver, to get it installed. Note that you need to allow driver installations through Windows Update for that.
Last but not least, check to make sure that the eye tracker is listed under Settings > Ease of Access > Other Options > Eye Control.
Eye Control displays a launchpad on the screen that you can interact with. You can select mouse and keyboard use from the launchpad, and even use shape writing on the keyboard for faster typing.
Eye Control supports text to speech on top of that for communication purposes.
Other improvements


Windows Console comes with a new color scheme to take into account new display technologies. The classic color scheme was not designed for modern displays, and some colors don't render well on high-contrast displays as a consequence.  Check out the blog post on the Windows Command Line Tools for Developers blog for more information on the change.
The performance of launching the touch keyboard has been improved.
Improvements to Windows Defender Application Guard container launch times.
Fixed several known issues that were causing system crashes, hangs and other issues.
As always, make sure you check the known issues for PC on the official Windows Blog before you run the update. This is still a development build, and some things may not work as expected. In this build for instance, Windows apps may throw the error 80070057 during installation or update.