Configure Google Chrome to display certificates directly
Google moved the option to display certificates in Google Chrome from the site properties menu to the Developer Tools.
All you had to do previously to display the certificate of a site in Chrome was to click on the site icon in the browser and select details to display the certificate in the browser.
After the change rolled out, users have to open the Developer Tools, select Security in the interface, and click on the "view certificate" button in it.
Not very elegant, especially if you need to verify certificates regularly and not just once every other month or so.
It appears that Google has had a change of heart. While the company did not restore the option to display certificate details directly in the page info panel, it did add a new flag to Chrome that adds a similar option to the page info panel.
The new experimental flag has been added to Chrome 60 by Google which was released recently.
Enable show certificate in Chrome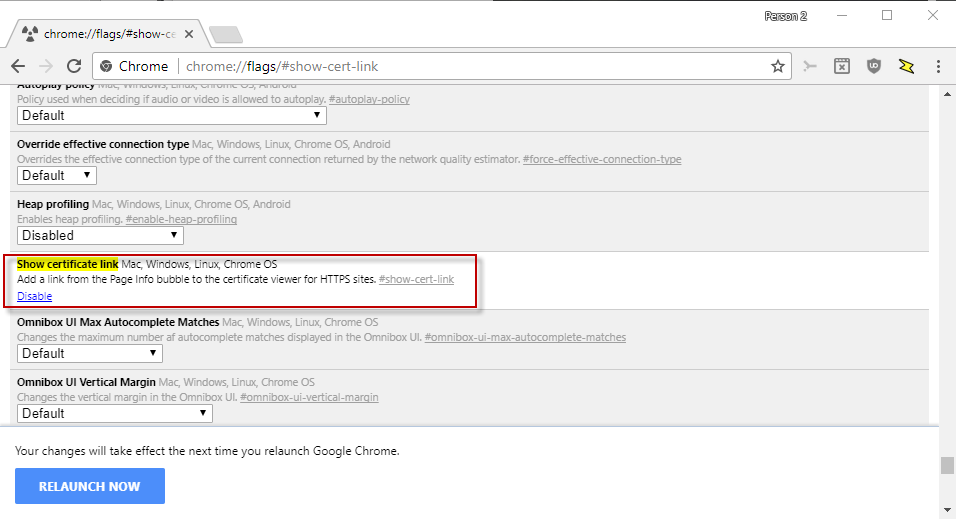 The feature is opt-in right now; you have to enable it manually before it becomes available. Here is how that is done.
Open the Chrome browser if you have not done so already.
Load chrome://flags/#show-cert-link in the browser's address bar.
Select the enable link that is associated with the "show certificate link".
Restart the Chrome web browser.
The experimental flag has the following title and description:
Show Certificate Link

Add a link from the Page Info bubble to the certificate viewer for HTTPS sites.
When you open the Page Info panel after the restart, you will notice that Certificate is a new entry when you open sites that use HTTPS.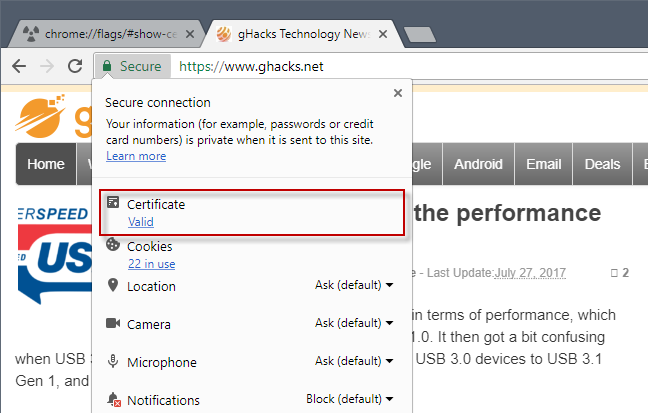 Chrome highlights whether the certificate is valid or not. You may click on the link however to open the certificate window that lists detailed information about the site's certificate.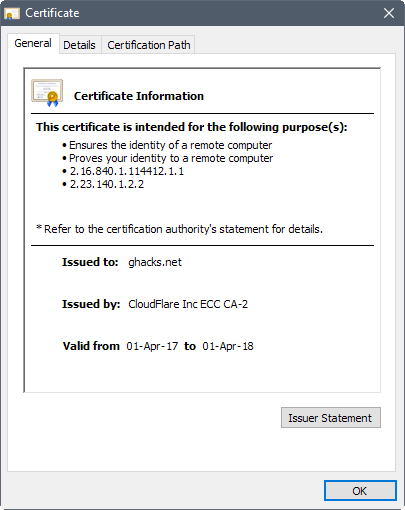 Closing Words
I never understand why Google removed the option to display certificate information directly in the Chrome browser. It looked as if the company decided to hide the information from regular users and make it Developer and tech savvy users exclusive, as barely anyone knew where to look to display certificate information after the change.
The new experimental flag adds this option back to the place where users look for it, but it is an opt-in feature. This means it is likely that many users will not know about it.
Still, it is good news that the option is back. Since it is available as an experimental flag, it may be integrated in Chrome natively, or removed from the browser.
Now You: Do you verify certificates regularly?