Disable autoplaying video in Google app on Android
If you use the Google application on Android, you may have noticed that videos may autoplay when they are shown in search results.
Jennifer Slegg was the first to notice this on Google Search on desktop devices. She noticed that Google would autoplay videos on select searches.
When she searched for "The Lego Ninjago Movie" or "Justice League Release Date" for instance, Google would display a movie trailer in the Knowledge Graph area of the search results, and play the movie trailer automatically.
The video plays without sound by default, and Google users need to click on the video to enable sound playback.
It is interesting to note that the queries that Jennifer tested were not specifically looking for trailers for these movies.
While the feature is live apparently for some users on the desktop, it may also be live already on Android devices if the Google application is used on these devices.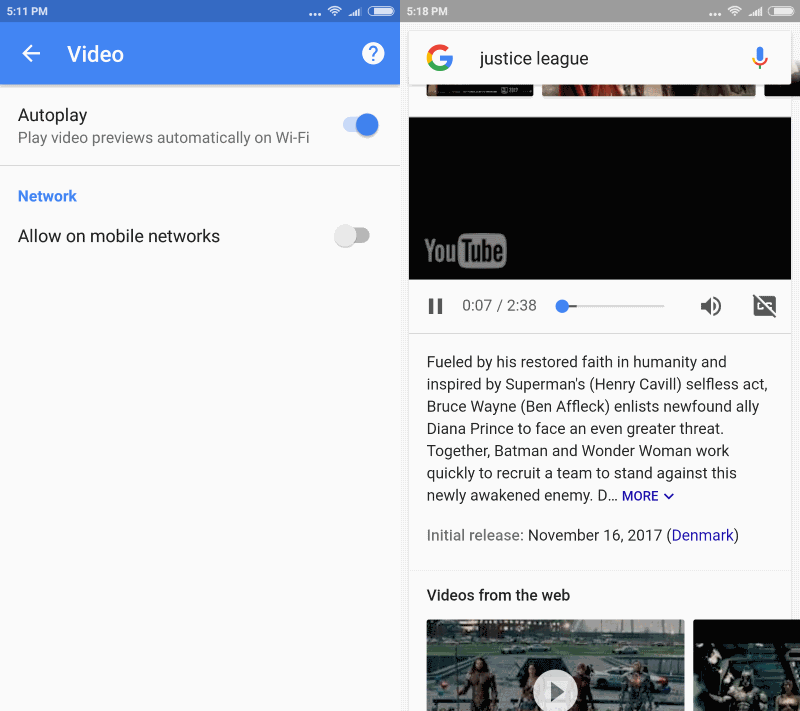 While I could not verify the autoplaying of videos on Google on Android or the desktop, as it still seems to be available for select users only, I noticed that the Google app for Android features an option to disable video autoplay.
It would make no sense to have such a feature if video autoplay would not be a thing in the application. I consider this a strong indicator that the reports are true, and that Google may roll out autoplaying videos to Google Search.
You can disable the feature on Android in the following way:
Open the Google application on your Android device.
Tap on Google, then Menu, then Settings.
Locate the video settings group and tap on it.
There you find two options:

Autoplay -- Play video previews automatically on Wi-Fi.
Network -- Allow on mobile networks.
If you disable Autoplay, Network is disabled automatically as well. Autoplay is set to on by default, and Network to off. The desktop settings don't have such an option (yet).
If you don't like autoplaying videos, you may want to disable the feature to avoid those in the Google application.
Closing Words
Autoplaying content falls in the same category of annoyances as popups, popunders, blinking distracting advertisement, and other elements that distract the user.
It is interesting to note that autoplaying videos are a big no-no when it comes to Google's own criteria for judging a website's quality. This is not the first time that Google deviates from its own quality guidelines for webmasters, and it seems likely that it won't be the last either.
Now You: how do you combat autoplaying content?