Bitdefender 2018 changes
Bitdefender released a refresh of the company's Bitdefender product line yesterday that improves it in several key security areas.
Bitdefender Total Security 2018, Bitdefender Internet Security 2018 and Bitdefender Antivirus Plus 2018 are all available already on the Bitdefender website.
Existing users may download the new versions from Bitdefender Central to install the new version and replace the old version with it in the process.
The following guide concentrates on the changes in the three versions. Bitdefender's press release concentrates only on Total Security, and fails to mention what changed in Internet Security and Antivirus Plus.
Bitdefender 2018 changes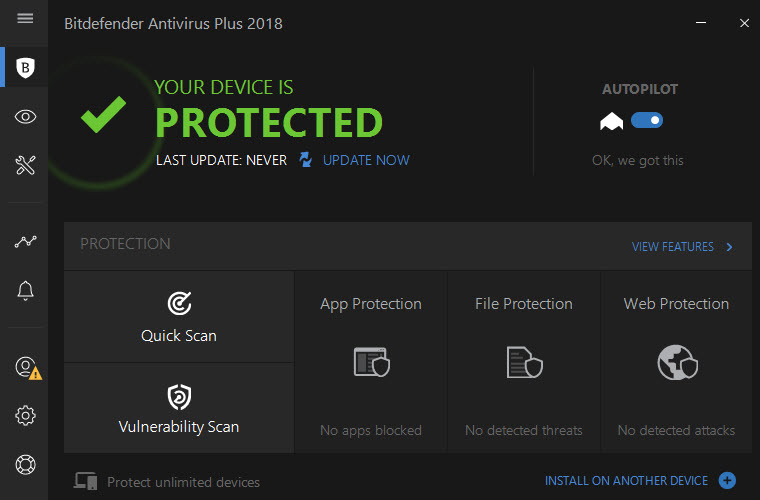 Bitdefender 2018 ships with five major changes. Not all of these changes are available in all products though:
Advanced threat defense (all Bitdefender 2018 editions)
Webcam protection (Bitdefender Internet Security 2018 and Total Security 2018)
Safe files (all Bitdefender 2018 editions)
Firewall (Bitdefender Internet Security 2018 and Total Security 2018)
Continuous updates (all Bitdefender 2018 editions)
Advanced threat defense
Advanced Threat Defense is a proactive technology that is designed to identify unknown threats in real-time on devices running the security software.
Advanced Threat Defense identifies anomalies on the device and correlates different suspicious behaviors to significantly increase detection with less impact on performance than ever.
Basically, what happens is that the component scores processes and actions, and if a process reaches a certain threshold, it is blocked and marked as harmful. If autopilot is on, a feature that makes decisions for you, then the process is blocked without user interaction.
The only exception to the rule is if a ransomware attack is detected. Users are notified about those even if autopilot is turned on.
The component shares information with Bitdefender's Global Protective Network .
Webcam Protection
Webcam Protection is not available in Bitdefender Antivirus Plus 2018. The feature monitors access to the camera, and blocks unknown applications whenever an unknown applications tries to access the camera.
This happens even with autopilot enabled, so that you may allow or disallow the access. The applications come with a whitelist that you may add programs to that you want to allow to access the webcam automatically without user confirmation.
You find this under Privacy > View Features > Webcam Protection.
The settings provide you with options to block all access to the webcam, to block browser access to the webcam, and to allow access based on aggregate data of all Bitdefender users.
Safe Files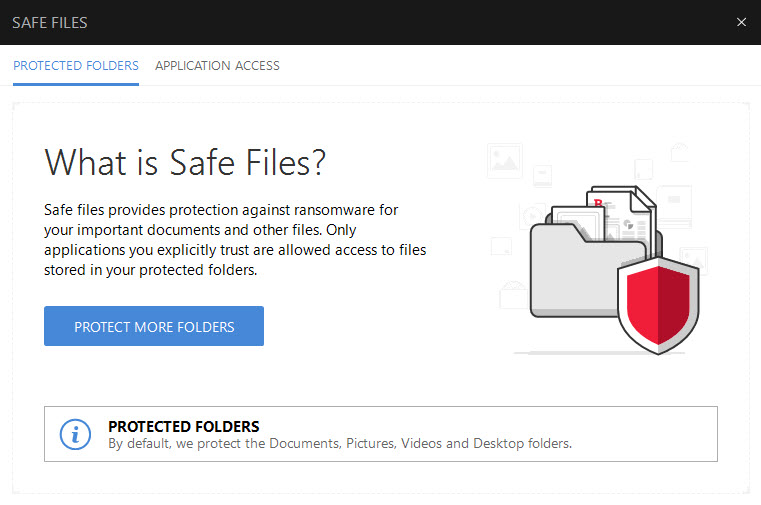 Safe files is a new feature of Bitdefender 2018 designed to protect important files against ransomware attacks. Ransomware attacks usually encrypt files on user systems, and will keep them locked until the user pays a ransom. Ransomware may also lock the computer screen, or block applications from running.
All Bitdefender 2018 products ship with the feature, and will protect the folders Documents, Desktop, Pictures and Videos by default.
You need to click on the protection icon in the Bitdefender interface, and there on "view features", to bring up the screen that lists Safe Files status and management options.
You have two core options there besides toggling the feature on or off:
Add more folders to the list of protected folders.
Add programs to a whitelist to allow them access to the files in protected folders.
Bitdefender displays a popup when an application tries to access a protected file.
Firewall
The firewall component is part of Bitdefender Internet Security 2018 and Total Security 2018. Bitdefender has redesigned the firewall in the 2018 product lineup.
It comes with new features designed to improve usability. These include a list of the latest 15 processes for which rules have been created, better management of existing rules on the rules tab, and options to enable Stealth and Paranoid mode easily from the settings.
Continuous updates
Bitdefender users get the latest versions of Bitdefender directly through product updates now.
Closing Words
Bitdefender products score really well in independent tests. You find the latest tests on sites like AV Comparatives or AV Test. The 2018 products have not been tested yet though.