You are here
FileFriend: hide files, folders or text in JPEG images
FileFriend is a free portable program for Microsoft Windows devices that enables you to hide files, folders or text in jpeg images.
The file manipulation and encryption tool has more to offer than that, most notably options to split and join files on top of its encryption functionality.
Computer users have quite a few options at their disposal when it comes to protecting files, folders or text from unauthorized access. One of the best options is to create an encrypted container, or encrypt a hard drive partition or even the entire hard drive.
Programs like VeraCrypt, Microsoft's Bitlocker, or Drive Cryptor provide you with that functionality.
Hide files, folders or text in JPEG images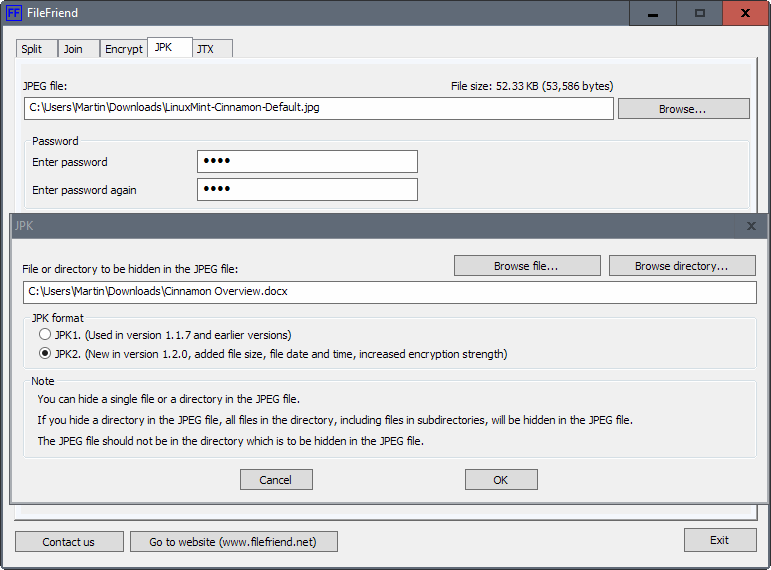 Sometimes however you may need something simpler. FileFriend may be such a solution. When it comes to the encryption functionality that it provides, all it offers are simple options to hide text, files or folders in jpeg images.
Note: The program runs a check for updates on start.
Simply run the program and select one of the three encryption options that it supports with a click on one of the tabs:
Encrypt: use it to encrypt a file or folder using a password that you specify.
JPK: hide a file or a directory inside a JPEG image.
JTX: hide text inside a JPEG image.
While this is super simple to execute, even for beginners or inexperienced computer users, you will notice that the program does not provide you with information on the encryption algorithm that it uses. The developer website does not offer anything in this regard as well.
This is problematic, as you don't know how good the encryption algorithm really is. While you do get some extra security through obfuscation, you may prefer to use a tried and tested solution instead to protect your data from unauthorized access.
FileFriend has two additional features. The first allows you to split large files into smaller parts, the second to join the files again. This works similarly to how archive software like 7-Zip or Bandizip handle this.
Closing Words
FileFriend can be a useful program, but one thing prevents me from recommending it. I'm not saying that FileFriend is a bad software program, only that I do not know enough about the encryption that it uses to determine whether it is a program that I can recommend, or not. Since I cannot do that right now, I suggest you use different programs.
Now You: Which program do you use to encrypt files?