First look at Gog Galaxy Beta client
The gaming online store Gog.com announced in mid-2014 that it would release a DRM-free Steam, uPlay and Origin alternative called Galaxy in the near future.
What made this particularly interesting, apart from the fact that the company would keep true to its no-DRM policy, was that Galaxy would be offered as an optional and not a mandatory component.
If you look at Steam or Origin, you will notice that these are required to play games that you purchased there.
Gog Galaxy is now available as a beta version. Users interested in it need to sign up for the beta before they get access to the client. Please note that access is not instant but that you are added to a queue that is processed over time. It took less than two days to get the invite.
You receive the invite by email and are redirected to the Gog website where you can add it to your account on the site and download it afterwards.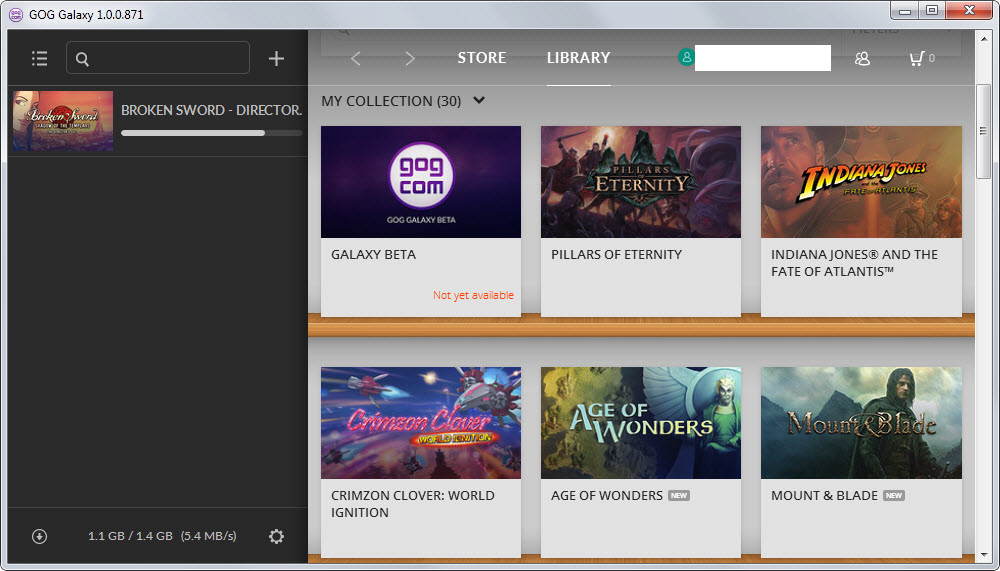 Once you start the client you are asked to sign in to your account. The store opens up but you can switch to library view right away to browse games that you already own.
Games that you have installed already are not listed which feels a bit strange at first. But once you initiate the download local files are checked first before files are downloaded from the Internet.
All downloaded and installed games are displayed on the left side from where they can be launched with two clicks.
This is slightly different from Steam where games are started with a click in the library. Here, you need to select the game first and click on play then in the main frame instead. There you find options to download extras, uninstall the game and display the manual or hints if provided.
The settings hint at several upcoming features that are not available yet. This includes automatic game updates, an achievement system, game time tracking, friends and chat, and notifications.
It is already possible to change the startup page, change the install folder and manage temporary folders and extra folders manually as well.
The client lacks options to change installation folders for individual games, something that Steam is offering now but lacked for years as well.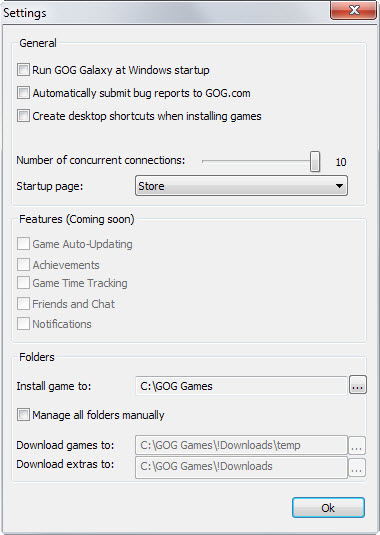 Since this is beta currently, I'd expect these features and others to hit the client in the near future as they improve the usability of it by a lot.
Probably the main reason for running the client is the automatic update feature that Gog wants to integrate in it. This improves how games are updated significantly as you don't need to check on Gog to find out if updates are available but get those updates automatically instead.
Again, this is not a requirement and if you don't want to use the client you are not forced to as everything stays as it was before in that case.