Microsoft has just published the Office 2016 Preview application for home and enterprise. It is available to Office 365 subscribers, other Office users and non-Office users on the Office website.
If you are not an Office 365 subscriber, you can download a 32-bit or 64-bit installer for the Office 2015 Preview from the site.
A click on one of the download links loads a small stub installer to the computer system which downloads the full installation package when executed on it.
There is no information on how large that download is, but expect it to be hundreds of Megabyte large.
Use the product key NKGG6-WBPCC-HXWMY-6DQGJ-CPQVG on the system after installation when asked to enter it. You are asked to activate Office when you launch one of the applications that ship with it for the first time. There you need to click on the "enter a product key instead" link to provide the key above and activate the preview this way.
Note: Office 2016 Preview will replace existing versions of (desktop) Office on the system. Microsoft notes that you will be able to go back to those versions if you remove the Office 2016 Preview again from the PC.
System Requirements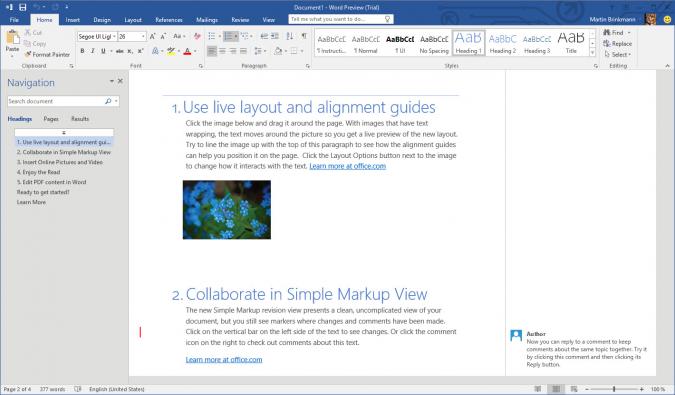 Microsoft does not reveal system requirements for Office 2016 Preview on the download site. The company refers users to the general system requirements page for Office which lists different requirements based on Office products that you may use.
What we do know at this point is that you need Windows 7 or newer to install the preview on the computer (sorry Vista users).
If you take Office 2013 as a baseline, your computer should meet the following recommendations:
CPU: 1GHz or faster
Memory: 1GB for 32-bit and 2GB for 64-bit.
Hard Disk: 3 Gigabyte of storage space.
Display: 1024x768
The preview includes the following programs:
Acces 2016
Excel 2016
OneNote 2016
Outlook 2016
PowerPoint 2016
Publisher 2016
Word 2016
Office 365 subscribers can participate in the preview if their subscription comes with Office 365 ProPlus rights.
A wording on the Office 2016 Preview page indicates that preview users need to purchase an Office 365 subscription once the trial period expires to continue using Office 2016. The other option listed on the page is to uninstall the preview to go back to the original version (if one was installed on the PC).
Does this mean that an Office 365 subscription is mandatory for Office 2016? Or is this just about the Preview itself only which you need to upgrade or uninstall when it expires?
About the trial period. The trial of Office 2016 Preview expires in 179 days according to notifications displayed in the apps when you run them. The notification can be closed and won't show up the next time. It is likely that it will be displayed regularly though.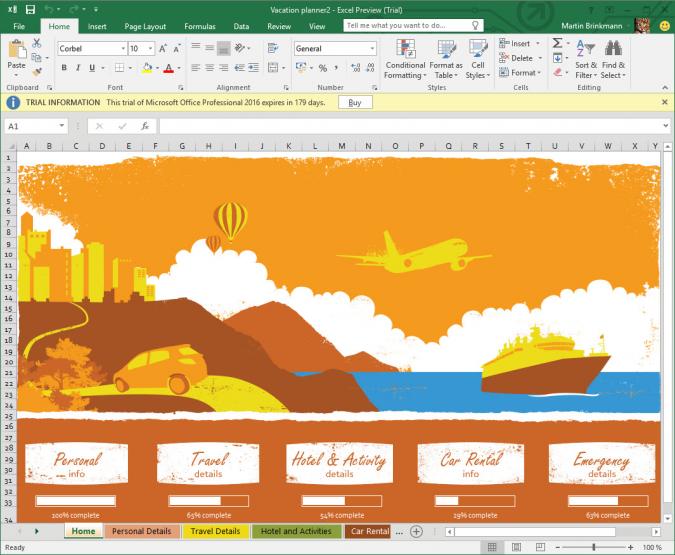 What is new?
A blog post over at the Office blog highlights major changes coming to Office 2016. Head over to read it in full or read our summary of the changes instead below.
Real-time co-authoring comes to the Windows desktop. In the first preview version, only Word 2016 supports it meaning that you can work with other team members on Word 2016 on the desktop or Office online on the same document at the same time.
Deeper cloud-integration to "create, open, edit and save" files from your desktop. Improved attachment of files from OneDrive in Outlook.
New batch of smart applications and machine learning to improve how you work with the programs including Bing Insights support to retrieve web information, the Exchange feature Clutter which prioritizes mail and Tell Me, a search tool that finds commands you type.
New analysis tools in Excel including one-click forecasting, integration of Power Query, improved Power Pivot, new charts and graphs, and option to publish to Microsoft Power BI Preview.
Data Loss Protection for Word, Excel and PowerPoint.
Multi-factor authentication in Outlook.
Information Rights Management extended to Visio files.
Better network traffic management, enhanced distribution management, flexible update management.
Now You: What is your take on the preview? Will Office 2016 become subscription-based only?