Technical Preview 3 of Vivaldi Browser is out now
Technical Preview 3 of the Vivaldi web browser is out introducing several new features and improvements to technical preview users.
Most of the features landed in the browser's developer edition which is a cutting edge but sometimes less stable version of the browser.
If you have used the technical preview version of the browser until now you may be surprised by the sheer number of new and improved features that Vivaldi's development team packed into the new version.
You can head over to the official blog post announcing the new release and download the new version from Vivaldi's main website while you are it.
You may notice one change directly after installation: import support for all major browsers on Windows. Vivaldi supports data imports from Firefox, Internet Explorer, Chrome and classic Opera now.
One of the coolest new features is tab stacking which works similar to how classic Opera introduced it to the browser world.
To stack tabs, simply drag and drop one on top of another. These tabs take up exactly as much space as a single tab and the tab itself indicates the number of stacked tabs.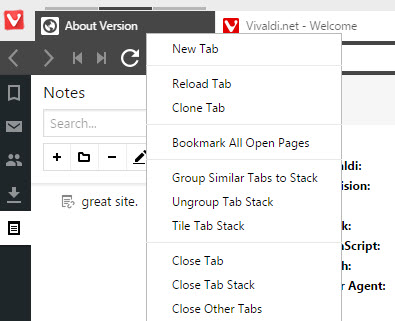 To access one of the tabs in a stack click on its indicator or use keyboard shortcuts such as Ctrl-Tab to cycle through them one by one.
That's not all there is to it though. A right-click displays various tab stack related options such as ungrouping or tiling.
Tiling displays all tabs of a stack in the same browser window at the same time. This allows you to display two or more websites next to each other in Vivaldi, useful especially on widescreen monitors.
Even better, you find tiling options in the status bar to tile tabs in different ways in the browser window. Instead of displaying them vertically aligned for instance, you may tile them horizontally or as a grid instead.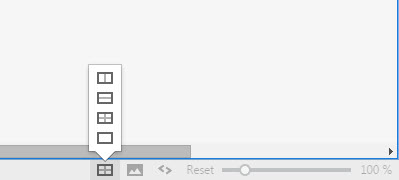 Other tab improvements include unread tab indicators both for individual tabs and tab stacks, and progress indicators for background tabs.
Page Actions are another feature that was improved in the most recent build. The feature enables you to apply filters to pages that you load in the browser.
For instance, there are filters that block contents, change the color scheme (invert works great on Ghacks), use monospace fonts or remove transitions.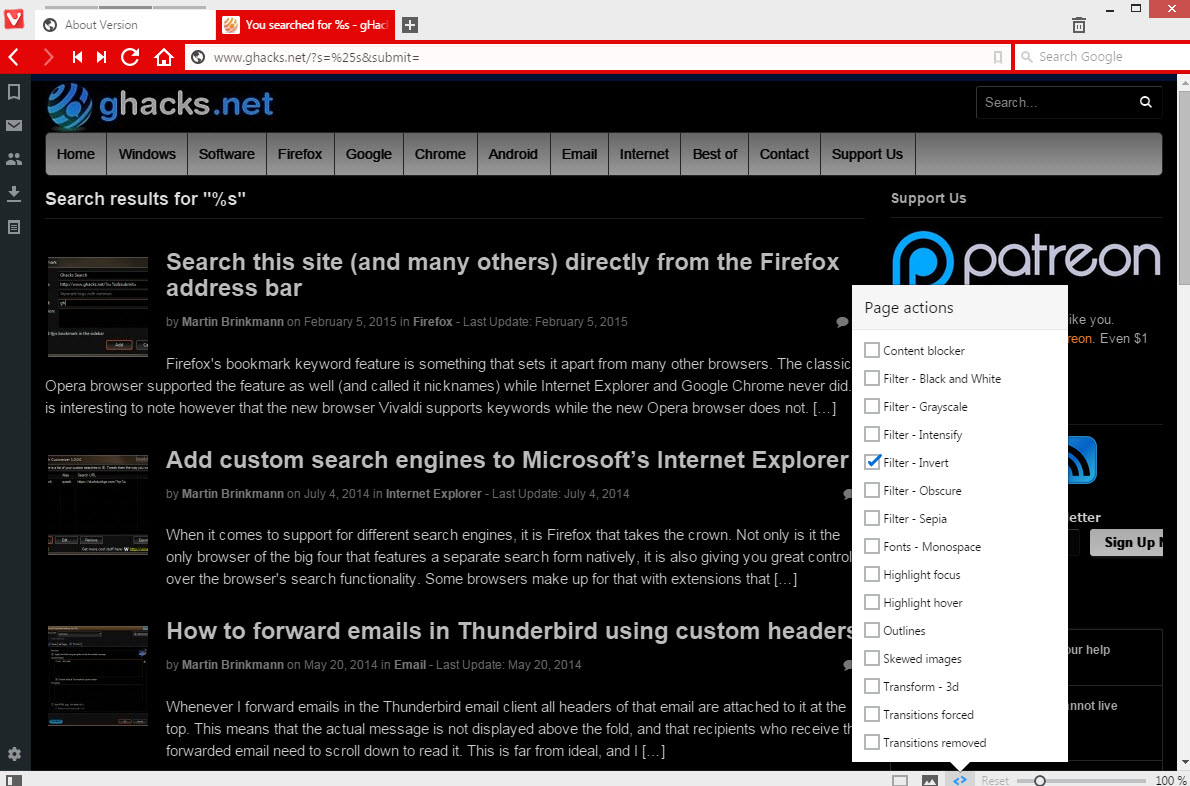 Another new feature enables you to load plug-ins on demand only. This is currently handled by the image loading preference which you find in the status bar of the browser.
If you set it to load only cached images or no images at all, plug-ins will be loaded on request only as well.
While the feature improves the stability of the browser and user privacy, Vivaldi should consider giving it its own preference instead as it is beneficial to set plug-ins to load on demand regardless of how images are handled by the browser.
Windows users benefit from the program's new auto update functionality from this version on. No word yet on when the feature will land for Linux and Mac versions but it is definitely on the company's to-do list.
Several smaller improvements went into the new version on top of all that. You get more and improved keyboard shortcuts, mouse gestures, improved note taking functionality, improved download dialogs.
Up next is the first beta version of the browser and from there it is just a matter of time until the first final version of Vivaldi hits the web.