Top 10 Free Antivirus Software for Windows
Now it's time to talk about FREE antivirus software. You might know many of these antivirus software, but here is the list of best free antiviruses. Before we start, remember that these versions do not offer the same protection as their paid versions. They don't have all the features of a full paid antivirus and may not do as good of a job, so I won't compare them with those full versions, but from a free antivirus perspective. If you like an antivirus and the protection it gives, support the developers and buy the product. Note: Some of the full versions of these antiviruses use much more system resources.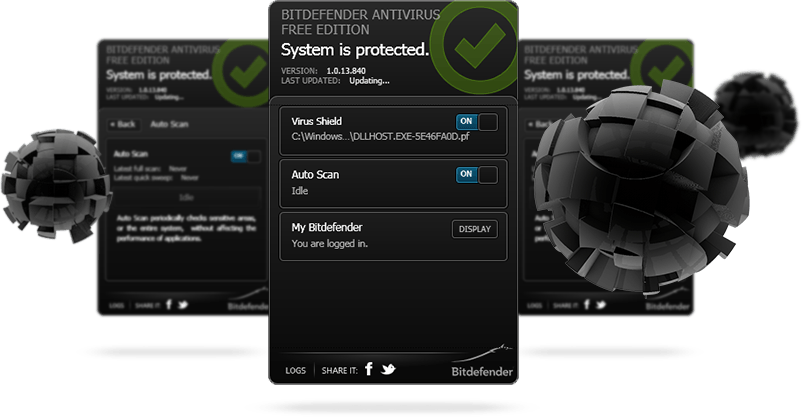 In spotlight is the BitDefender Free Antivirus. This is, in my opinion, the best free antivirus available. In the free version, all you have to do is register (for free) once a year and you get the best protection on your computer. Recently it has overtaken Avast! in lowest user of system resources as  reviewed by PC Magizine. "An antivirus utility that removes and defends against viruses, Trojans, rootkits, spyware, and all types of malicious software is totally doing its job. Yes, some vendors pack all sorts of goodies into their nominally stand-alone antivirus tools, but those goodies aren't required. The relatively new Bitdefender Antivirus Free Edition (2014) sticks with the essentials, and does quite a good job." BitDefender Free Antivirus
Meeting again with Avast!, but now, in spotlight is the Free Avast! Antivirus. This is, in my opinion, the next best free antivirus available. In the free version, all you have to do is register (for free) once a year and you get top notch protection on your computer, emails, downloads and IMs. It has a powerful heuristics engine that allows it to find almost every virus around. The experience gathered over the years (since 1988) by its developers shows really well in Avast!
I must admit that Panda antivirus does not differentiate itself from other free antivirus software in any way when it comes to protection. It offers the same level of detection from viruses, trojan, spyware, adware, worms and malware and its features are not that specific. The thing that made Panda Cloud Antivirus the second position in my list is the fact that it is, as the name suggests, Cloud based. What that means, is that when you scan your computer, it doesn't use resources from your computer, but it operates in the cloud, keeping your computer working as normal.
Avira is another example of a really good free antivirus program that has very much to offer. Excellent protection, user friendly and it consumes next to nothing from your resources. I've used it for some time and must say I'm really happy with the results. It detects most threats and it works in silence in the background. It's perfect for laptops and netbooks, but also for your own personal computer.
AVG is again on our list of best antivirus programs, this time, the free version. This antivirus works great and its top notch detection stats are impressive. If you are looking for a really good free antivirus, with cool features, like link scanner and email scanner, than you should definitely try AVG Anti-Virus, it's one of the best.
Comodo Antivirus is a fairly good antivirus program. After making all the steps in installing it (it requires some extra steps from your usual antivirus), I saw a nice looking antivirus with a detection rate of up to 90% and a resolving percentage of 60%, but I recommend to use in parallel with another antivirus that provides more cleaning power. Its detection engine is really good, but you might think of getting another software if you want to clean your infected files.. Those numbers are what makes Comodo come on our list of best free antivirus programs.
This is a fairly good antivirus, much like Panda Cloud Antivirus, it works in the cloud, keeping your computer working free. It offers really good protection against bots, worms, viruses, trojans, keyloggers, and spyware, so a full protection. This was a surprise, but Immunet is a really good antivirus and it has my thumbs up and recommendation for anyone who wants to try it.
PC Tools AntiVirus is one of the most basic antivirus programs you will find. It has some features, but don't get excited. I featured it in this list because it is still better than other free antivirus software, but not by much. If you are not an avid internet browser, and more of the type that only sends emails, it will get the job done, but any more than that, I recommend something stronger.
Malwarebytes is 9th on our list because it doesn't run in background, so no real time protection and it cannot protect you in real time. Technically, it is not an antivirus. But, the reason it is on our list is because when you run into a problem with malware or worms, trojans and such and your top of the line antivirus can't handle it, all you have to do is run Malwarebytes and the problem is solved. This little program can handle anything you throw at it. I recommend keeping it on a USB flash drive and when your computer crashes, try giving it a scan in safe mode with this program, it might just save you from a "format C:/".
ClamWin Free Antivirus is not the best free antivirus. Although you may know it from the Linux version (CalmAV), this is more a basic tool that you use to scan your computer. The reason ClamWin is at the bottom of the list are: no real time protection, lack of features and a little tricky to use. But, on the other side, it does make a really good detecting tool and it doesn't use many resources.
Keep in mind, the system I tested all these antivirus programs is an Intel i5 [email protected] 3.5 GHz with 4 GB of DDR3 Memory. Try to find out if these powerful antivirus programs will work well on your systems, as some require lots of horsepower.
There you go, top best antivirus software around. But keep in mind, there is another antivirus that is better than all of those put together! Do not click on suspicious ads or links, do not open spam mail or add in your IM list bots or people who you don't know. And most important of all, update your antivirus on a regular basis and don't think just because you have an antivirus software installed you're protected and you can do whatever you want on the web, be on the guard and help your antivirus, your in this together!